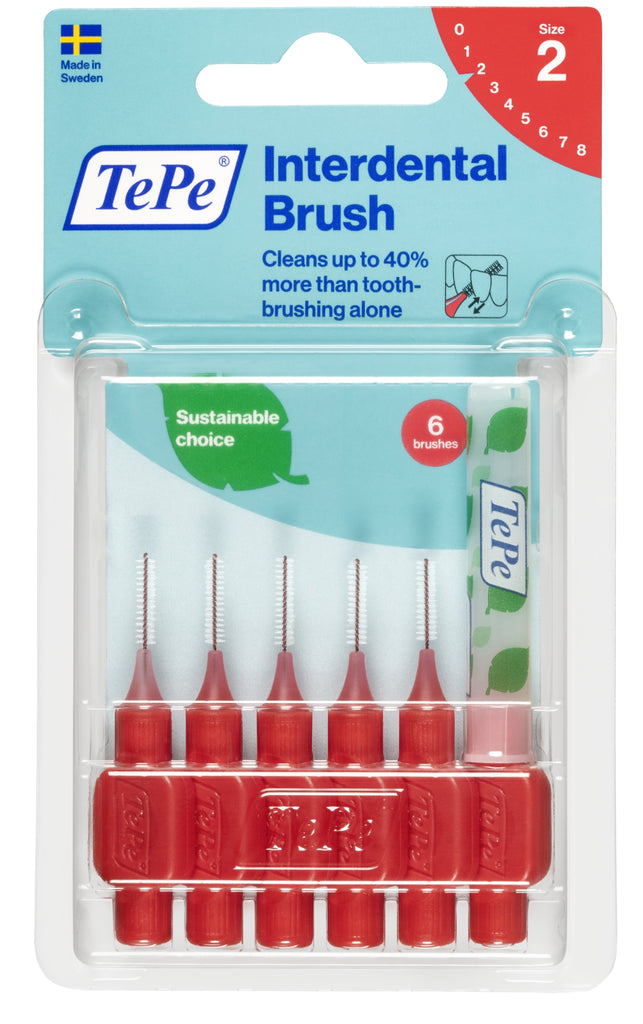 TePe
TePe Interdental Brushes Red Original (6pc/pk) - 2 packs
*Free Delivery
An interdental brush by TePe, designed to clean the gaps between the teeth, where regular toothbrushes are unable to reach. Use daily to keep gums and teeth healthy and fresh.
TePe Interdental Brushes Original come in 9 colour coded sizes to fit narrow as well as wide gaps. The interdental brushes are developed in collaboration with dental experts to ensure the highest quality in every detail. Daily use can remove up to 40% more plaque than toothbrushing alone. Effective plaque removal prevents gum inflammation, cavities and bad breath.
What is an interdental brush?
An interdental brush is a small brush specially designed for cleaning between your teeth, where a regular toothbrush doesn't reach. Using an interdental brush every day, as a complement to toothbrushing, is an easy and efficient method to keep your gums and teeth fresh and healthy. Cleaning with an interdental brush prevents gum inflammation, cavities and bad breath.
About this product:
TePe Interdental Brush Original (Red)
Straight brush head, short handle
Original/Soft texture

Red


Wire dimension: 0.5 mm

Passage Hole Diameter (PHD) 0.9 mm

6pcs/pk
Plastic coated wire
All sizes and models of TePe's interdental brushes have a plastic coating on the wire for safe and gentle cleaning. The interdental brushes can also be used for cleaning around implants or braces.
Optimal access
TePe Interdental Brushes Original have a straight neck.
The four smallest sizes of TePe Interdental Brushes Original have a flexible neck for even better access.
User-friendly handle
All models have a flat, ergonomic handle for a steady and controlled grip. The original short handle can be extended with the accompanying plastic cap. The handle is made from recyclable polypropylene.
---
Share this Product
---
More from this collection